Green Ink and Toner.com
InkJet Cartridges


Toner Refill Kits


Ink Refill Kits


Toner Cartridges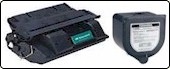 Eco-Friendly Products

US orders $45 ship for free

Full One Year Guarantee
Green Ink And Toner provides an eco-friendly and budget friendly alternative to brand new printer cartridges: Our cartridges are made from recycled material, and our Ink and Toner Refills Kits re-use your existing cartridges, saving resources and reducing landfill.
When you shop at Green Ink And Toner you get quality, eco-friendly printer cartridges and refill kits at substantial savings. We're confident you'll be fully satisfied with our cartridges and refill kits, and we back up our products with a Full One Year Guarantee! We also offer FREE SHIPPING on all US orders over $45!
Order your ink jet and toner cartridges SECURELY on our award winning website or call us: 269-978-1983. Credit Cards, Google Checkout, Paypal, Purchase Orders, Checks & Money Orders Accepted. We're here and ready to help you Monday - Friday, 8am to 6pm Eastern Time, and Saturdays, 9am to 11am.